Being Frank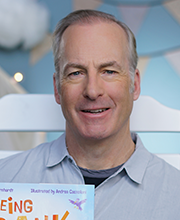 Written by:

Donna W. Earnhardt

Illustrated by:

Andrea Castellani

Published by: Flashlight Press
Read by:

Bob Odenkirk

Suggested grade level:

1st - 3rd

Run time:

9 minutes
"Honesty is the best policy." That's Frank's motto.
But Frank's overly frank comments tend to annoy his friends and teachers. Not even his own mother is all that fond of Frank's "tell all" attitude.
So Frank turns to his grandpa for help. "Everyone is mad at me for being frank. I'm not sure honesty is the best policy anymore."
"That used to happen to me, too," said Grandpa Ernest.
A few outrageous hats, a spicy jar of relish, and some grandfatherly wisdom help Frank realize that truth is best served with more sugar and less pepper.