Julius, the Baby of the World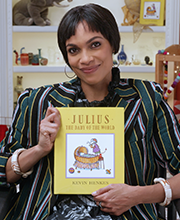 Written by:

Kevin Henkes

Illustrated by:

Kevin Henkes

Read by:

Rosario Dawson

Suggested grade level:

1st - 3rd

Run time:

12 minutes
The baby of the world is anything but that to his big sister—until Cousin Garland dares to criticize him.
When baby Julius is born, his parents think he is just perfect. "Julius is the baby of the world," they chime as they kiss him and admire him.
But Lilly is Julius's older sister, and she knows differently. "I am the queen," says Lilly. "And I hate Julius."
Poor Julius. And poor Lilly, because her selfish behavior is making her miserable, too. Can anyone persuade Lilly that her brother really is the baby of the world?