Zombies Don't Eat Veggies!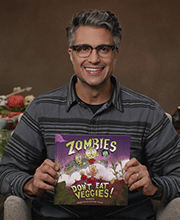 Written by:

Megan & Jorge Lacera

Illustrated by:

Jorge Lacera

Published by: Children's Book Press
Read by:

Jaime Camil

Suggested grade level:

K - 3rd

Run time:

8 minutes
Mo Romero is a zombie who loves nothing more than growing, cooking, and eating vegetables. Tomatoes? Tantalizing. Peppers? Pure perfection! The problem? Mo's parents insist that their niño eat only zombie cuisine, like arm-panadas and finger foods. They tell Mo over and over that zombies don't eat veggies. But Mo can't imagine a lifetime of just eating zombie food and giving up his veggies. As he questions his own zombie identity, Mo tries his best to convince his parents to give peas a chance.
Watch it in Spanish here.